Syno International in Asia is happy to announce the start of SynoCloud Partners, a partnership program that optimizes the process of collecting, processing, and using zero-party data. As the first partnership developed under this system, we are working with Cyber Communications Inc. (CCI) in the development of their zero-party data service.
For more information about our partnership with CCI, please click here.
Background
In recent years, due to the strengthening of privacy legislation around the world, more and more platforms are starting to block third-party cookies. Despite this, all companies, regardless of scale or industry, are having to decide how to obtain the data needed to respond to changes in consumer values and behaviors. Demand for efficient, globally-compatible data is ever increasing, especially in the fields of cross-border EC and digital media. Digital transformation, which sits at the nexus of Globalization, Digitalization, and Consumption Diversification, is becoming more and more essential for the process of collecting, processing, and reporting on consumer data.
Example Data Collection Problem: Global Marketing Research
One example of an issue in the existing system is the data collection of global marketing research. For example, if a company considering cross-border e-commerce wants to concept test its products with online buyers in Europe, North America, and Asia, many layers are created between the commissioning company and the consumers who respond to the survey. The extended process eventually affects the research cost and time, and the commissioning company often cannot control the process from data collection to analysis, visualization, and utilization.
What is SynoCloud?
SynoCloud is Syno's proprietary CDaaS (Consumer Data as a Service) platform of products and services for the collection, processing, and reporting of consumer data. Established in 2016, Syno has been providing SynoCloud data solutions in the fields of global marketing research, customer experience (CX), and digital marketing, all while drastically reducing costs for our end clients. To this end, we have also helped clients improve their customer experiences and marketing ROI, as well as create new monetization sources through the data we collect on their behalf.
About SynoCloud Partners
SynoCloud Partners is a service that allows our select partners to offer their end clients Syno products and services. This includes the collection, processing, and reporting of zero-party data in the marketing research, customer experience, and digital marketing fields. From marketing research and consulting firms to media agencies and ad technology companies, we offer B2C and B2B partners a way to reduce costs, gain global insights, and create new monetization opportunities.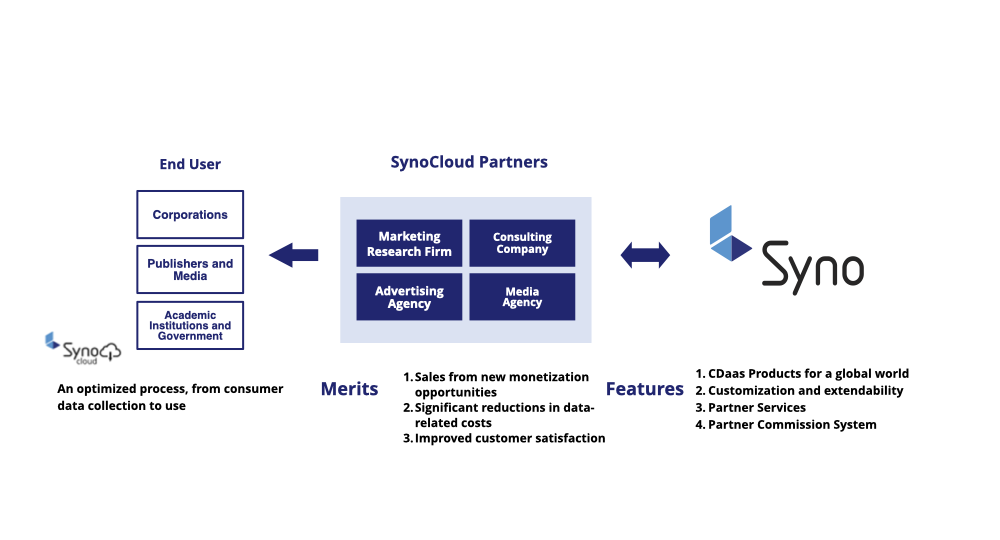 SynoCloud Partners Strengths
1. CDaaS Products for a Globalized World
With the ability to collect zero- and first-party data from consumers in over 80 countries, Syno knows how to work in a globalized world. Our advanced survey and online panel management systems support centralized management with common IDs, complex analysis and visualization tools, and integration with marketing automation and ad technology platforms.
2. Agile Development for Customization and Extendability
We will build solutions that meet the needs of partner companies and end users, such as the customization of existing products, system development, and development of automatic connections (APIs) with third-party systems. We can provide inexpensive and agile development in cooperation with our own IT development teams in Lithuania and Vietnam.
3. Partner Success Program
Our partner success program helps partners optimize the benefits of utilizing SynoCloud, through providing training in our systems, customer support and localization, and custom solutions built in conjunction with partner companies. Our platform+α approach means that partners have access to regular meetings, joint webinars, co-production of white papers, and sharing of overseas case studies through collaboration with Syno's global offices.
4. Partner Commission System
We have a partner commission system to support the introduction of Syno products to end users. Our customer success team will be responsible for training and support for end users after deployment.
5. New Monetization Opportunities
Whether using SynoCloud for marketing research, experience management, or digital marketing, partners can enjoy a variety of new monetization opportunities.
6. Significant Reductions in Data-Related Costs
By improving existing data collection, analysis, and reporting processes, you can significantly reduce data outsourcing and operational costs and strengthen your business with existing data.
SynoCloud Partners Examples
1. Market Research Companies
By using SynoCloud in domestic and international quantitative and qualitative surveys, data-related costs and time can be significantly reduced. Through using our panel management system, it is possible to continuously conduct research on niche targets that would be difficult to recruit with conventional market research panels.
2. Consulting Companies
Our experience management system allows for the continuous collection of loyalty indicators, such as customer/employee satisfaction and NPS, from multiple touch points (in-store/online). By consistently collecting such data, consulting companies are able to effectively make use of the voices of customers and employees. By using SynoCloud, consulting companies can not only reduce conventional research costs, but can connect to their end client's CRM or support systems for timely action when problems crop up.
3. Advertising and Media Agencies
By linking their existing services with SynoCloud, advertising and media agencies can take advantage of zero party data for CX improvements, CRM measurement, advertising promotion, and media monetization support. In addition to significantly reducing costs, agencies using SynoCloud to collect data in-house can connect to other systems via API and can visualize marketing ROI.
4. Ad Technology and Marketing Companies
By integrating SynoCloud with DMPs, CDPs, marketing automation tools, and IOT platforms, ad technology and marketing companies can optimize their ROI with more comprehensive zero- and first-party data. Collecting and using this self-reported data also allows more accurate customer segmentation and look-a-like modeling.
CCI, A SynoCloud Partner
For a real-life example of what a SynoCloud partnership can allow, lets look at what we do for CCI.
CCI, the first official SynoCloud Partner, has recently launched a zero-party data creation service as a next-generation marketing service utilizing SynoCloud.
For more information, please visit the CCI Site (Japanese):